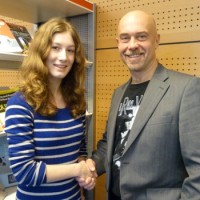 As many of you know I recently ran a competition in our local High schools to find a new illustrator for the Alfie Potts books. My aim throughout the books has been to inspire and encourage children to think like entrepreneurs… to find out what it is they love to do, and then turn it into a job or business. I believe that finding my new illustrator from within a local school, thus allowing them to pursue the thing they love to do, and make money from it too, fits in so well with the whole 'young entrepreneur' ethos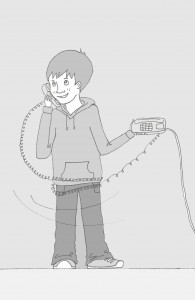 I had several great entries and the standard was really good… with some of the entries from talented children as young as 11 years of age! Finally though I had to pick a winner, and after much deliberation I chose 17 year old Anna Bishop (That's her with me in the pic – top right), a sixth form student at The City of Norwich school (CNS). Her depictions of Alfie were the ones that really struck a chord with me, and I can't wait to work with her on the future Alfie stories.
Alfie is growing up, so the way he looks and dresses has changed slightly, but I love it and hope you do too (Click on the pic to see a larger image). We are aiming to get book 4 out by Christmas, and, although it'll be a challenge, with a bit of luck and a following wind we should make it!
Please leave a comment and let me know what you think of Alfie's new look.
Tags: alfie potts, business for kids, education system, financial role models, mind virus, prosperity lessons for kids, schoolboy entrepreneur, teenage millionaire, Young entrepreneur