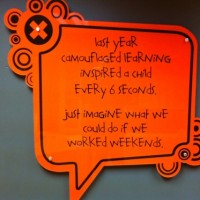 One of the things I'm doing these days is working with the amazing people at Camouflaged Learning (check out their website. it's great). They do some fantastic stuff with both schools and corporate alike, and I'm very pleased and proud to be associated with them.
However, Houston, they have a problem….
It's the last week before 1/2 term and they are still looking for the last few engineers to join their amazing Engineering the Landscape project. So, if you or anyone you know might be interested in this terrific public engagement project (they're paid posts, too!) please get in touch with them asap.
Here's a little bit about the project:
Engineering the Landscape is an innovative new project seeking to explore the impact of engineering on the Norfolk Broads and Coast as manifest through the harnessing of wind power. Tracing the uses of wind power throughout the centuries, from small medieval windmills through to giant offshore wind farms, the project will engage informal adult learners with engineers to trace the history, technology, purposes and impact of wind power over time.
The project will also look at the economic and social impact of windmills and wind turbines as well as their place within the cultural landscape. In bringing engineers together with adult learners and partners from a range of cultural and heritage organisations, the project will create a touring photographic exhibition, open and accessible to the general public at a range of venues, exploring the participants encounters with the engineered landscape of the Norfolk Broads and Coast.
Working with Camouflaged Learning is always a blast, so it's certain to be an exciting and engaging project as well as a load of fun! If you'd like to know more, or how to get involved, please don't hesitate to get in touch with the guys at Camouflaged Learning as soon as you can.
Thank you 🙂
Tags: Broads, Coast, Engineering, Norfolk, North Sea, Turbines, Wind