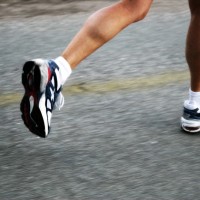 Wow… I just past my half century… and I'm not playing cricket!
Yes, last Monday was my 50th birthday and I still can't quite believe it because I feel younger than ever!
And it's all because this year I decided to give myself a gift…
You see for quite a few years (despite being in the fitness industry for many of them), I'd neglected my health. Too much alcohol, too many poor food choices, too little exercise, had all led to me being sluggish and overweight. I was unfit, out of breath, my clothes were tight, my belly was hanging over my trousers, and I really didn't like what I saw when I looked in the mirror.
To cap it all I'd recently taken part in a group 'core value' session with a life coach friend of mine, and had been reminded that health was a major core value of mine. I'd not been living in line with my values, so it was no wonder I wasn't feeling good… and it was also no wonder that I wasn't achieving the things I knew I was capable of in other areas of my life too.
Now anyone who knows me will tell you that I'm about 5 feet 8 inches tall on a good day, so when on Jan 1st this year I got on the bathroom scales and saw that I was over 15 stone in weight (and it wasn't muscle), I decided enough was enough.
Something had to be done…
So I set myself some fitness goals. These were…
1. To be the fittest I've ever been in my life by my 50th birthday
2. To be able to run a 5k without stopping (And I've always hated running)
3. To be 12 and a half stone by the end of 2012 (although weight loss goals are always open to review. How I'm looking and feeling is more important)
I changed the way I ate (note I didn't say 'went on a diet') and started eating more healthily… cutting out processed foods, sugar, most alcohol, wheat, and dairy… instead eating lean meat, fish, poultry, nuts, vegetables, fruit, with a few oatcakes thrown in for good measure… and I started running… performing a gentle interval training programme that would gradually increase my distance and fitness levels.
Of course there were those who'd heard it all before…
'Yeah right, this won't last long' I was told by a few people… but I was determined not to fail.
I'm extremely fortunate to have three very bright and beautiful children, Tommy (19), William (8), and Kittie (6) and I want to be around for many years yet, watching them grow up to have families of their own… so I used them as my motivation.
I ran every other day from Jan 1st. I ran through the snow, the rain, the fog, the hail, and the frost… and I actually started to enjoy it. I enjoyed the healthy eating too, and soon found that I didn't miss the alcohol… sleeping better, and waking up refreshed instead of groggy.
And of course there was the weight loss… 🙂
Losing 12lbs in the first month is always going to be a great way to keep you motivated! Of course it slows down after that, but I've seen a consistent downward trend over the last 9 months, and I'm currently 12 stone 12 lbs and feeling good… well on target for 12 and a half by the end of the year (goal 3).
And what about the other goals? Am I fitter than I've ever been at 50 (goal 1)?
Oh yes, I certainly am!
Last weekend I completed the British 3 peaks challenge for charity. If you don't know what the 3 peaks challenge is it involves climbing the UK's 3 highest mountains (Ben Nevis – Scotland, Scafell Pike – England, Snowdon – Wales) within a 24 hour period (including driving between the 3). It's tough, especially given the weather we did it in, but I completed it with nothing more than a bit of knee pain when coming down the mountains.  I would NEVER have even contemplated doing that a year ago… but with my new found fitness I'm now looking for more, tougher challenges to do over the next few years.
Can I run 5k without stopping (goal 2)?
Yes! 5K is easy… I do more than that nearly every other day. 10K is no problem either… I've covered that distance on several occasions. And, amazingly (for me), I'm currently training for the Norwich half marathon in November. Now if you'd told me last Christmas that I'd be running a half marathon in less than a year I'd have thought you were delusional, but it just shows what can be achieved with a little consistent effort.
You may remember that at the start of this blog post I said 'this year I'd decided to give myself a gift', and of course by now you've worked out that the gift I gave myself was probably the greatest gift of all… 'good health'.
Jim Rohn once said that 'success in anything is just a few simple disciplines practised on a daily basis' and that pretty much sums up this year for me. A few changes in diet… 30 minutes or so every other day for exercise… less alcohol and more water… all simple stuff really… but the results have been tremendous. I'm fit. I feel great. I have loads of energy. I have less aches and pains. I sleep like a baby and wake up refreshed. I'm more positive. I'm slimmer, wearing 32″ waist trousers and a 16″ collar for the first time in years. And I'm much happier, because I'm living in line with my core values.
A massive added benefit is that I now love running… after years of using any excuse not to do it! 🙂
So now I have to ask you a few questions…
'How are you doing, honestly? Do you feel great about your self, your body, your appearance?'
Is your current diet helping or hindering your health?'
'Is your exercise routine (if you have one) helping you achieve your weight loss and fitness goals?'
'Are you energetic and positive?'
Because if you are answering 'NO' to these questions, it's probably time to start thinking about what you could do to change things… and I hope this blog post gives you the inspiration to start making that change.
But hurry up… it's later than you think!
If you'd like to chat about some of the things you could do to make a start, feel free to give me a call on +44 01493 700669 or email me at mark@markhibbitts.com with your questions. I'm happy to share my running programme with you, give you tips on nutrition, meals etc, or even (if you're local) train one on one with you until you achieve your goals.
Yours in success and good health
Mark Hibbitts
Tags: diet, fitness, health, jogging, norwich half marathon, over 50, over 50 diet, weight loss