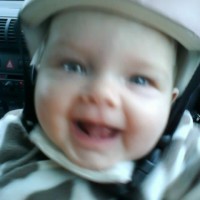 Let me start by saying this isn't one of my 'normal' posts about education and the like, but it's something I'm passionate about so here goes….
A few months ago I was overweight and unfit and I decided to actually do something about it instead of talking about it (I'm 50 in September after all). Since then I've lost 2 stone (28lbs) and am running 5k or more every other day, as well as lifting weights, eating clean, and generally taking better care of myself.
And I feel great!
In September I've decided to do the '3 Peaks Challenge' for Lets Do It Anyway, a charity run by my friend, the very inspirational Tonya Knights. More specifically it's to raise money for Daisy Ogsten's 'Daisy Chain Fund'. Daisy is a beautiful little 2 year old girl with an extremely rare birth defect called Adams-Oliver Syndrome, you can read all about her here  Dotty Daisy's Blog
So, I need to raise some cash and am asking for help.
Wait! Don't leave yet! I know times are hard, so to raise the £500 I need I've decided to ask lots of people for a little bit, rather than a few people for a lot.
250 people giving just £2 (approx $3) each is my target. I figure that when you read about Daisy you'll be happy to give such a small amount to her cause… especially if, like me, your children are blessed with the good health we usually take for granted.
So that's it… I do hope you can help by spreading the word about Daisy and my 3 peaks challenge attempt, and, if you can, by donating just £2 to her cause. To read about the 3 peaks and donate £2 to a very worthy cause, please visit my Charity Giving page here…. Mark's Page
Thanks. I appreciate you all 🙂