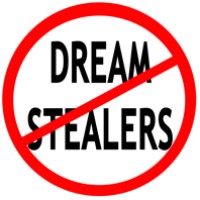 Don't be stupid!…. That'll never happen!…. Are you getting ideas above your station?…. Who do you think you are?…. You've got your head in the clouds!
By the time we are 14 years of age we've most probably heard all the above and more. So, when you think about it, it's really no wonder people give up on their dreams, take a job they hate, and end up living what Randy Gage would call 'a life of quiet desperation'.
That's a shame, and is (in my opinion) unnecessary, so it was with great pleasure that I read an article today about Jay Godsall, a man in is mid 40's who is close to realising a dream he first thought of in 1983, at the tender age of 16.
Jay was ignored, then ridiculed, but he never let go of that dream. Now, nearly 30 years later, it looks as if he'll not only succeed but when he does he'll provide a valuable service and make a lot of money too!
Brilliant! That's just the way it should be.
You can read the article here
Tags: alfie potts, beliefs, business for kids, dreams, education system, prosperity lessons for kids, schoolboy entrepreneur, value