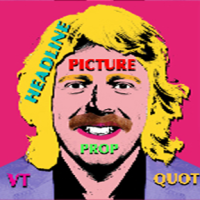 If you're in the UK you've probably heard of Keith Lemon. He's the alter-ego of Leigh Francis, an entertainer, game show host, and very funny guy. I love his stuff, and his award winning late night programme 'Celebrity Juice' always has me in stitches.
But I was shocked a short while back when went I into a local primary school to give a talk to a class of 9 and 10 year old children, and when I asked the question…
'Can you think of anyone who's an entrepreneur?'
… one of the kids said 'Keith Lemon!'
'Keith Lemon?' I exclaimed. 'How do you know about him?'
'We all watch Celebrity Juice' they said. 'It's bang tidy!'
I agree with them. I think it's the funniest show on TV, but I certainly wouldn't let my children anywhere near it! Firstly because it's on late at night (on a week night), and secondly because it's very 'adult' in nature, and certainly not, in my opinion, appropriate for children of primary school age.
So what are these parents thinking about? Do they not care about the 'innocence' of their beautiful children? Have they given up? Have they absolved themselves of all parental responsibilities?
Maybe I'm getting old 🙂 but when I look at my beautiful children I just love their innocence, and their wide eyed wonder at the simplest of things, and I want that to stay with them as long as possible.
Don't get me wrong, I don't believe in censorship by any means. I remember not liking Mary Whitehouse much as a youngster because she tried to stop us from watching certain things and when she gave a talk at my school she was given quite a hard time. However, I don't feel that makes me a hypocrite. To me there's a vast difference between Bill and Ben the Flowerpot Men getting in the same flowerpot and making 'funny noises' and Keith Lemon's pseudo sexual antics and innuendo on late night TV!
No, not censorship. Just a little common sense parenting would do.
Is it me?
What do you think? Is Celebrity Juice suitable for a 10 year old?
Please comment below, and in the words of Keith himself…
'If I don't see you through the week, I'll see you through the window'
Tags: beliefs, celebrity juice, children, Keith Lemon, kids, parenting, responsibility