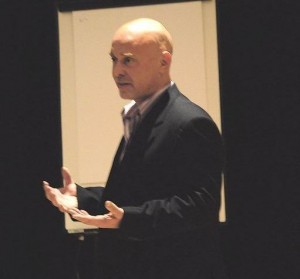 In his talk, 'Lessons they don't teach you in school' Mark tells the inspiring and amusing story of his journey from bankruptcy to successful published author, copywriter, and businessman, and shares some of the lessons he's learned along the way.
Mark speaks passionately about the need for decent financial education for children and will have the audience in stitches with hilarious tales of his own financial role models (or lack of them). He'll explain the effect his bankruptcy had on his family, and how selling his wife's Rolex and jewellery to pay the rent and feed their young children made him realise it was finally time to make a change.
He talks about his personal development journey. Studying. Learning lessons. Changing habits. Recovering. Getting the idea for the Alfie Potts books… and quickly receiving a publishing deal and a host of other opportunities…
This is a story about fear, blame, procrastination, self sabotage, and negative programming, followed by personal development, prosperity principles, finding your purpose and passion, and eventually becoming a man of value.
It's about perseverance… being the best you can be… and never giving up. You can be sure that Mark will give your colleagues, employees, members, or pupils a whole lot of inspiration and some new ideas to think about.
If you'd like to book Mark for a speaking engagement, please email or call him on 07736 463981.
"I just wanted to thank you for your great talk at YES group (Norwich). It is always such a pleasure to hear you speak. You always seem so relaxed yet your powerful message and your passion shine through. The way you put your audience at ease makes it easy to hear your message. I am sure it is only a matter of time before you and Alfie become household names"…
Kay Daze, Norwich

"Mark you were awesome and you had a very powerful message for us all – Thank you! Anything we can do to help you spread your message please just ask"…
Tosin Ogunnusi, Think Training & Consultancy, Norwich
"Mark's style is warm and friendly, always positive and encouraging, and Mark is a highly skilled speaker, inspirational role model and without doubt one of the nicest people to work with"…
Angela Carpenter – STEMnet Schools and Ambassador Coordinator, Norfolk
"Thank you so much for coming in on Wednesday. As you can see from the children's letters, they really enjoyed your talk. I thoroughly enjoyed it as well! Thanks"…
Helen Hobday, Deputy Head, Stapleford Abbotts Primary School, Essex
"Your talk has really helped because I want to be a hockey player when I'm older. I have been visualising and now I play for a team and have won my first match. Your advice has really helped all of us in our dreams so far. Thank You "…
Sonny Brooks, Year 6 pupil. Essex