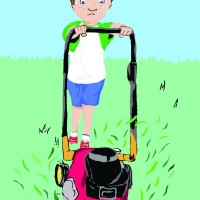 My friend Helga is a network marketer with Nuskin, one of the giants in the MLM industry. She's also a big Alfie Potts fan, as is her Granddaughter Sophia. Well today Helga told me a true story and I thought I'd share it with you. While it may sound like a story from an Alfie Potts book, it actually happened some 8 years ago in New Zealand!
One of Helga's NuSkin friends had a 15 year old boy, who with his birthday fast approaching, was asking for a car as a birthday gift (I guess they drive early over there). All his friends either had one or were getting one, so you can picture his face when, on his birthday, his father gave him a lawnmower instead!
He was furious! But the father explained that he now has the tool to earn the money for his car, and that he would double his son's earnings, which he did.
Now aged 23, the son drives a BMW, owns his own boat, and has bought 2 rental properties. He also has a thriving MLM business as a NuSkin distributor under his father.
His dad stopped doubling the earnings a while back!
How many of us would have done the same thing, and how many would have given in and bought the car? And I wonder, if his dad had bought the car as his son wished, whether he'd be where he is now at age 23?
I'd love to hear your thoughts?
Tags: alfie potts, business for kids, lessons, money, schoolboy entrepreneur, teaching, teenage millionaire, Young entrepreneur, young entrepreneur club