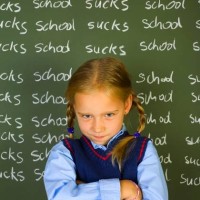 A few nights ago I had the good fortune to hear the one and only Marlon Smith speaking at the Yes! Group Norwich. Marlon is a bit of a legend, extremely funny, and a master motivator, and if you haven't seen him yet I'd highly recommend that you do.
That night, one of his favourite and oft repeated phrases really struck a chord with me.
'There's greatness in the room'
Yes! I thought. He's right, there IS greatness in the room. But not just in this room…  in EVERY room… and that includes every school room too.
You see I believe every school room in the world is filled with greatness. I believe every child has a unique gift they can develop to build a future for themselves and make a positive impact on the world. The problem is the education system does not do enough to encourage that greatness.
Schools are too busy with the curriculum and Government targets to spend time finding where each individual children's genius lies, then nurturing it until they leave school as confident, skilled young adults, knowing they can make their own way in the world doing the thing they were born to do.
I think it's time for a change.
Do you?
Tags: alfie potts, education, education system, lessons, prosperity lessons for kids, schoolboy entrepreneur, teaching, Young entrepreneur